COMPETITIVE NATURE PUTS IT MILDLY
While Ray and Nikki don't have a prenup or formal contract should their marriage go south, crystal clarity exists in one area. "She made it well-known that if we ever split, she gets kickball," laughs Ray. Nikki's competitive nature in this area only seems fair. She's been married to CLUBWAKA longer. "When we started dating, I was like, I'm busy Thursday nights, so don't expect me to be around. I play in this kickball league. His exact words to me were, 'well, that sounds terrible,'" says Nikki. Tagging along to watch one night, he got hit with a "ray" of light.
This is not your standard kickball team from Tucson. The "B team" is primarily married couples. But this roster of brides and grooms didn't think Ray was the "best man" for the team — initially.
Mike: Why didn't they like you?  Was it the competitive nature?
"Yeah, it was the competition. I'm prior military, so I have that side of me. There's a competitive side to me. I don't care if we're just winning for mad props. If we're out there keeping score, I want to win."
The Couple That Plays Together
Nikki, who was once running the league, started in 2007 and Ray in 2009. With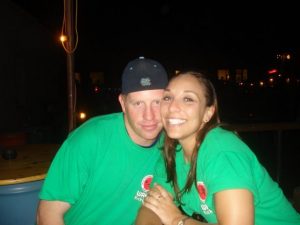 countless seasons and 10 years of marriage under their belt, inquiring minds want to know what it's like for the couple that plays together. "I hate it," Nikki says in a burst of laughter. "He is competitive to a fault, and sometimes it's almost irritating for me like is it that big of a deal? I'm competitive too, but I just go out there to enjoy it. But I enjoy being out there with him. It's something fun that we do together," adds Nikki.
"It can be nerve-wracking at times. This is your spouse, and this is the person that you love, and you want them to do well, and there are times where there's a big moment, and Nikki is up to kick, and you get nervous, and you're like, 'I don't want her to make the last out and then she'll feel like sh*t. When it's your spouse, and they make an error, you feel bad for them," says Ray.
"There are times when I come home, and I'm still a little steamed by it (a bad play), and it might've had nothing to do with either one of us… I'm like, 'we had that one, and he blew it, and we lost. And that means we'll have to play more games in the playoffs because we don't get the bi-week…"
OMG, RAY, IT'S JUST A GAME. 😂😂 But let's keep going with this competitive nature for a minute. 
Mike: "How long has a kickball quarrel carried over into the marriage and you guys being mad at each other? 
"Um, that's changed over the years. In the early years, we were still dating, and you didn't bring that home because you wanted to get home and do other things. I don't know, nothing more than a couple of hours," adds Ray. Nikki says, "we might go to bed a little irritated at each other." They ended up settling on no more than a few days and a dig just before the next game to remind the other not to screw it up. These two are a riot to interview! 
KICKBALL COUPLES TO KICKBALL PARENTS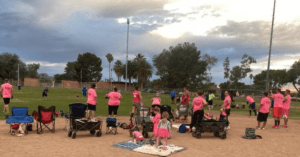 Another unique thread to this team is they've kept the same faces year after. They're tight. The average team age hovers around 40 years old. They all started without kids, and now several couples have little ones who make up the cheering section on the sidelines. "That was a whole new dynamic to add to it. So there are nights where there's a late game, and one of us stays home with the kid, and the other goes and plays. That's not ideal. We'd like to play together. But when you get older, it's what you gotta do." says Nikki.
She laughs as she says she's old enough to be the mother of some of the younger players on other teams they play against. But "The B Team" still dominates. "They're out there drinking and having fun, and I have arthritis legit in my knees, and I'm like, 'you don't even know what it's like to be out here with arthritis and a four-year-old.'" 
NURTURING THE COMPETITIVE NATURE
Despite all the talk of competitive nature, the couple says competition dropped off a bit in the last few years, moving fun front and center. "Teams go out there; they don't care if they win. We've seen teams sometimes celebrate that they just got through the lineup. They're like doing cheers. Winning is fun. We don't go to the bar after the games or dress up each week to the theme. Our job is just to go out there, kick your ass and win," Ray says. "And not get hurt," adds Nikki. 
Though they can't participate in everything, they make occasional rounds in the social club. "We do enjoy being out there and refereeing sometimes; we enjoy the camaraderie," says Ray. "I think it's fun from an older person's standpoint to see them doing that (having fun) because I did that at one point," says Nikki. 
Just to give you an idea of their fun back in the day, Ray shared a moment from his wedding when a friend, kickball player, and former Navy seal wore his kickball medal from the championship the team just won. "And he's telling my wedding guests that it's a Congressional Medal of Honor." Try beating that story, CLUBWAKANS. 🔴 🎖️ 😂
See also: New to CLUBWAKA? Do These 5 Things.  
---
Want to join our social sports club?  Look at our current league and team openings.