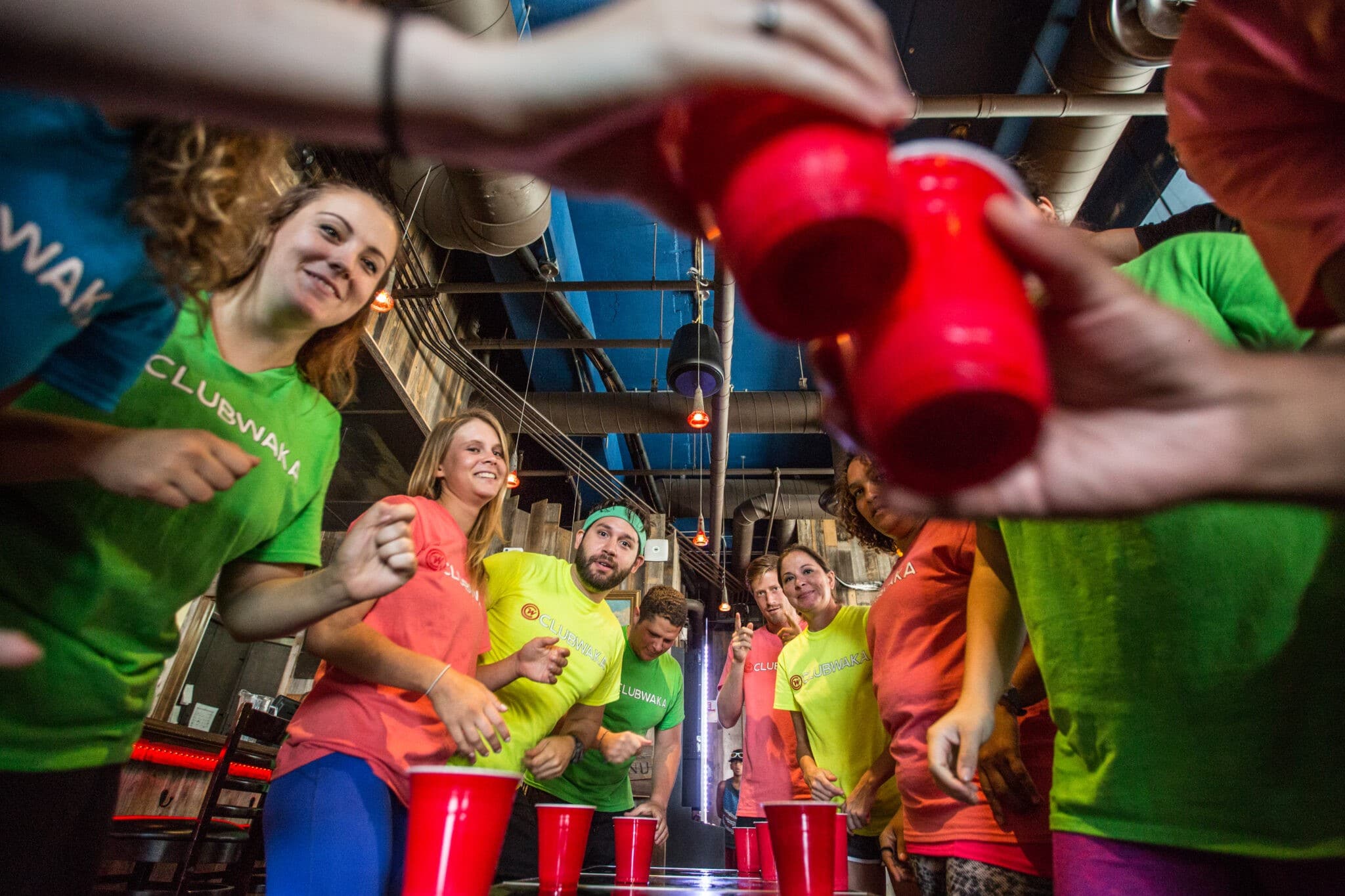 If the last few years of online gaming co-op, Netflix watch parties, and Discord group chats have you itching for something a little less virtual, consider getting out of the house and spending time with people in the original 3D environment: the real world!
You may have distant memories of this ancient analog experience if you grew up in the 90s or earlier, and although it's admittedly a bit of a niche interest these days, we swear it's gotten better with time.
We know, we know: making friends as an adult can be hard, and the friends you've had since high school may have developed other interests as they've gotten older—or maybe you don't live close enough to each other to hang out anymore (it happens!).
When you're looking for something to do and have no one to do it with, try one (or more!) of these 7 super fun social activities for adults—and call the babysitter because there's no kids allowed!
1. Take a Cooking Class… or Any Class
Your local community college is the perfect place to find affordable, non-credit courses for adults covering scores of topics.
Tune up your computer skills and impress your boss! Learn new recipes from an expert for a fabulous and original date night! Get some friends together, choose a culture you want to learn more about, and sign up for a language or history class together! If you're feeling really brave, just pick any random class and fly solo, making new friends along the way!
2. Go to a Live Music Event
Remember going to concerts and festivals when you were younger? Try doing that again, but now!
Going to a concert or festival with friends is a lot of fun, and going to a concert or festival by yourself almost guarantees you'll meet new friends while you're there. Think about it: you'll have a common interest right up there on stage, and as far as looking for conversation starters go, that's an easy place to start!
How long have you been a fan? What's your favorite song of theirs? Have you seen them live before? See, easy!
If a big concert or festival isn't in your budget or close enough to your hometown, look for smaller local live music events at restaurants, parks, or community centers (later, you'll be able to say you saw them way back before they got famous!).
3. Throw a Party
Birthday parties, block parties, tailgating, and barbecues are all perfect excuses to invite over everyone you know for some good times! If you don't have an excuse to throw a party, we can help: you see, as an adult, you don't really need an excuse. All you need is the desire to party and the drive to make it happen.
Or, failing that, you just need at least one friend who likes planning these things and only needs an excuse—and you should be their excuse the same way we're being your excuse. That's what friends do!
4. Take a Hike
Wait, didn't we say these are supposed to be social activities? Yeah, and if you don't think hiking is social, you haven't gone hiking with the right people yet!
Whether you go with a group or on your own, blazing popular hiking trails is an often-overlooked way to meet new people! If hiking isn't quite your speed, consider other outdoorsy pursuits like camping or birdwatching. Going to popular campgrounds, lakes with camping facilities, or areas that are favored by local birders will get you out into the community. Then all you have to do is introduce yourself!
5. Make a Difference
Volunteering isn't just for improving your college admissions package, you can work to support a cause you care about as an adult too! Think about doing community service, volunteering part time at an animal shelter, joining a local environmental group to help protect and preserve nature in your community, or spending your free time doing meaningful work towards something else you care deeply about.
Whatever you choose to do, you'll be spending time with other adults who are all committed to improving some part of the world around you. If you've never volunteered before—or if you only have distant childhood memories of it—we promise there's a lot more fun and social time than you're expecting. Trust us: people with a cause they care deeply about know how to party!
6. Improve Yourself
Above all, the best way to find fun social activities is to be the kind of person who gets invited to fun social activities, and that means taking some time for self-improvement! Read the classics by Stephen Covey and Dale Carnegie if you must, but if you truly want to become a highly effective person who knows how to win friends and influence people, we recommend taking a class or a few to improve your physical and mental health.
Meditation and mindfulness, dance, yoga, spin class, rock climbing… these are all ways to become a better you while meeting new people engaged in the same pursuit. We even heard a rumor that jazzercise is amping up for a big comeback, and the 80s kids among us could not be more excited (and terrified) for its return!
7. Join an Adults Sports League
There are countless benefits to joining an adult sports league (we counted 7 of them before and we're pretty sure there are a lot more than that!) but one of the top benefits is the fact that joining an adult sports league is a fun way to socialize with other adults and make new friends.
There are also sports involved! And an excuse to celebrate your wins, whether it be winning a game, winning at life, or achieving your new personal best! What more could you possibly need?
Ready to Get Started?
If you're looking for something fun to do and one of the fun things you're considering doing is joining an adult sports league…
*waves*
Hi there! We're CLUBWAKA, and we're all about bringing people together with co-ed sports, parties, and supportive communities based on friendship! Yes, we do this with sports leagues, but CLUBWAKA isn't about sports, we're about people! 
We help promote low-pressure social interaction for adults based on authenticity and community-building so that you can meet new people, have fun, and be yourself while participating in a common interest and working towards common goals.
If you're interested in meeting new people by joining an adult sports league, seek out a CLUBWAKA location and join the club!