CLUBWAKA Kicks Cancer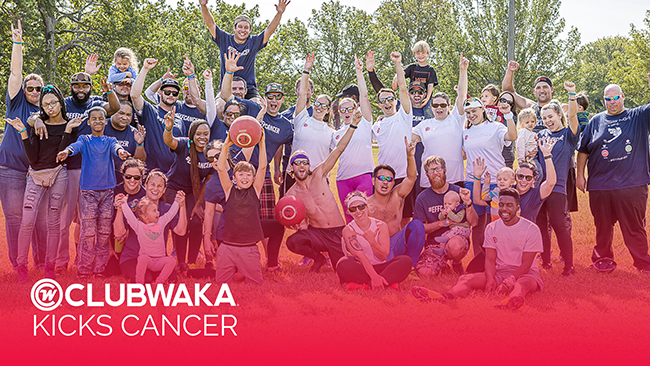 Every October since 2013, kickballers from all over Virginia have come together to play hard, party hard, and most importantly to kick cancer! Join us on Saturday, October 17th for 8th Annual CLUBWAKA Kicks Cancer Charity Tournament! Proceeds from this event will benefit The Sentara Cancer Network Mission Funds.
DATE/TIME: Saturday, October 17th; 9a-6p
LOCATION: Kiln Creek Park, York County
COST: $35/40/45/50 - Sign up earlier and save
INCLUDES: 3 guaranteed games plus playoffs for qualifying teams, shirt, and charity donation
FACEBOOK EVENT: https://www.facebook.com/events/772466793212475
MORE INFO

Registering for the tournament is just like registering for a CLUBWAKA team.
If you are a captain, you'll create a friend group and then have your friends register and select your team from the dropdown.
If you are a free agent or small group just looking to join the fun, no worries, sign up and we'll find you a team!
This tourney will be using the standard CLUBWAKA Kickball Rules
All teams will be guaranteed 3 pool play games. The top 4-8 teams from pool play will advance to a single elimination tourney in the afternoon. See below for the full tournament schedule.(tournament schedule is subject to change and will be finalized a week prior to the event)
Proceeds will benefit the Sentara Cancer Network Mission Fund. Help us kick cancer!
If you have any questions, contact the tournament director Brent Wentworth (brent@clubwaka.com) and he will be happy to assist you
ABOUT THE CHARITY
Contributions to the Sentara Cancer Network Mission Fund assist patients who are in need of medications and supplies not covered by insurance. Cancer education pamphlets, books, support group meetings, and other supportive programs (art therapy, education classes, etc.) are also funded with these generous contributions.
COVID-19 PHASE 3 SAFETY GUIDELINES
CLUBWAKA is committed to hosting this fun day of kickball in a safe and responsible manner. Please take a moment to review our safety guidelines

SCHEDULE OUTLINE & FORMAT
Each team will have a minimum of 3 pool play games, with one bye round.
Teams on their bye round may be required to provide refs for other games.
Games will be 7 innings OR 50 minutes, whichever comes first.
The capacity for this event is tentatively capped at 12 teams
*Schedule subject to change based on final team totals. Will be finalized after October 12th.
SPONSORS
Do you own a small business or work for a company that would like to support this great event? We are looking for shirt and field sponsors for this year's tournament. Your support is critical toward covering operating expenses and helping us produce the charity tournament every year.
SHIRT SPONSORSHIP PACKAGE - $250

Logo on the back of every timely registered player's shirt
Logo displayed on the event webpage.
Highlighted post inside the event page and inside welcome and wrap up emails.
Opportunity to host a table or provide swag to participants (optional)
2 free event registrations to use for yourself or giveaway to clients
FIELD SPONSORSHIP PACKAGE - $100

Logo displayed on a dedicated sign at the sponsored field
Shoutout in the event welcome package and wrapup email
Recognition inside of the Facebook event along with the other field sponsors
1 free event registration to use for yourself or giveaway
Option to host a table or provide swag to participants
This is always the highlight of our calendar year and one of our best events. If you are interested in supporting this event and increasing awareness of your business with hundreds of kickballers, please reach out to brent@clubwaka.com.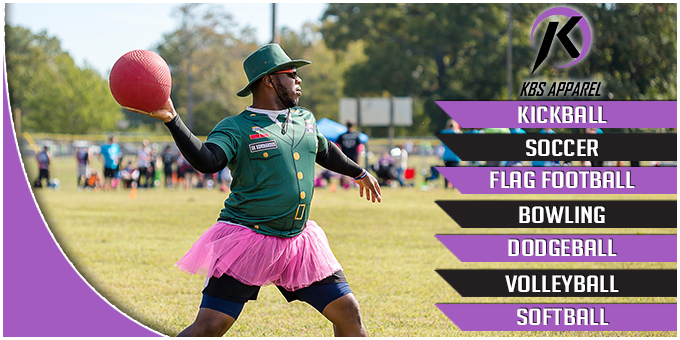 CUSTOM JERSEYS
Every CLUBWAKA Kicks Cancer Registration comes with a shirt, but we know some of y'all like to be EXTRA. That's why we've partnered with KBS Apparel to be the official custom uniform provider for CLUBWAKA Hampton Roads! Want to show off your team spirit? Put names & numbers on the back? Contact KBS for full sublimation, spot-sub, or screen printed jerseys and accessories at a great price and quality. MORE INFO - https://www.kbssportsapparel.com/pages/clubwakavirginia
Artwork & Design is included in your cost. KBS' design professionals will help you create the best look for your squad.
All uniform designs will include the CLUBWAKA logo and proofs will be submitted to CLUBWAKA for approval before printing to ensure proper guidelines are met.
The lead time for production is approximately 4 weeks for full-subs and 2.5 for spot/screen.
For more questions, please visit the KBS Website or contact them at info@kbssportsapparel.com