7v7 Coed Soccer Sundays at Oozlefinch
Lace up your boots and strap on your guards. CLUBWAKA's 7v7 Coed Soccer League returns to Ft. Monroe this Spring! This is the perfect league for soccer lovers of all skill levels. We play 7 on 7 with a shortened field and an emphasis on light contact, sportsmanship, and camaraderie on and off the field. It's a great way to get out, be active, meet new people, and have a blast kicking it with friends!
MEMBERSHIP INCLUDES
7-game regular season plus playoffs
Team shirt
Post-game specials at Oozlefinch
All equipment and officiating costs are included, no hidden fees
RESOURCES
COVID-19 PHASE 3 SAFETY GUIDELINES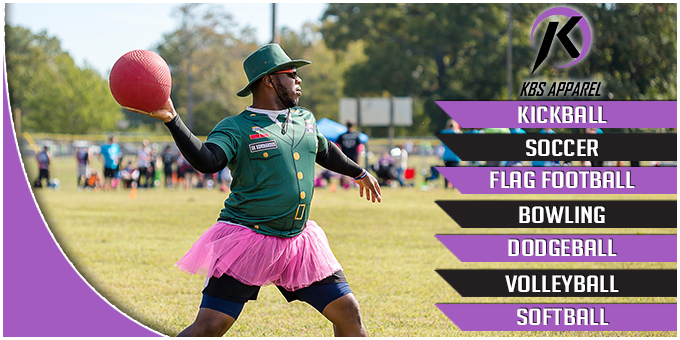 CUSTOM JERSEYS
Every CLUBWAKA league membership comes with a shirt, but we know some of y'all like to be EXTRA. That's why we've partnered with KBS Apparel to be the official custom uniform provider for CLUBWAKA Hampton Roads! Want to show off your team spirit? Put names & numbers on the back? Contact KBS for full sublimation, spot-sub, or screen printed jerseys and accessories at a great price and quality. MORE INFO - https://www.kbssportsapparel.com/pages/clubwakavir...

Artwork & Design is included in your cost. KBS' design professionals will help you create the best look for your squad.
All uniform designs will include the CLUBWAKA logo and proofs will be submitted to CLUBWAKA for approval before printing to ensure proper guidelines are met.
Outside of standard CLUBWAKA issued shirts, only custom jerseys produced by KBS Apparel will be permitted for league play. Any custom uniform that was approved prior to 2020 can still be worn, however new designs must go through our exclusive partner.
The lead time for production is approximately 4 weeks for full-subs and 2.5 for spot/screen.
For more questions, please visit the KBS Website or contact them at info@kbssportsapparel.com